Puppy Large Breed Dry Dog Food 2KG (Near expiry sale)
Regular price
Dhs. 94.08 AED
Regular price
Sale price
Dhs. 94.08 AED
Unit price
per
Sale
Sold out
Clean insect protein dry food for all large breed puppies' best start in life​
Complete, and natural, everyday dry food for large breed puppies, formulated with our unique hypoallergenic clean insect protein and low inflammatory plant-based ingredients, providing holistic health benefits throughout the whole body and the mind.
Percuro Large Breed Puppy food has been formulated to give your pawfect little pal the very best start in life. Packed with hypo-allergenic, clean insect protein and naked oats, plus our Nature Calm Complex, it has everything a growing pup needs to thrive in body and mind. It's sustainable too, so your planet-friendly puppy will grow up with a low carbon pawprint. This deliciously healthy food comes with no hidden nasties like colourings, flavourings or preservatives.
No-no's

No common allergens, livestock products, dairy, wheat, corn, soy or rice!
No hidden added nasties like artificial colourings, flavourings or preservatives
Yes yes!

Omega 3 for healthy brain development
Controlled calcium for healthy bone development
Extra protein for healthy muscle development
No animal fats, we use extra virgin olive oil from Greece instead
Rich in Vitamin B and dietary fibre
Omega-3 and omega-6 fatty acids from algae oil for healthy skin and coat.
A healthy mind

Designed to calm your canine friend, our Nature Calm Complex blend includes dried chamomile, omega 3 rich oils and prebiotics. This combination can help your puppy feel more at ease and develop their brain, meaning they are easier to train and can help them overcome typical dog fears, including separation anxiety and fireworks.
Composition

Dried insect protein (33%), Naked oats, Dried potato flakes, Green peas, Olive oil, Dried brewer's yeast, Flaxseed, Minerals, Dried beet pulp, Dried apples, MOS (Mannan-oligosaccharides) and bèta glucans (0.5%), Dried carrots, Dried chicory, Dried chamomile (0.1%), Algae oil, Yucca schidigera.
Analytical Constituents

Crude protein (28%), Crude fat (14%), Omega 3 fatty acids (0.9%), Omega 6 fatty acids (4.7%), Crude ash (8.5%), Crude fibre (5%), Moisture (9%), Calcium (Ca) (0.9%), Phosphorus (P) (0.8%).
Nutritional Additives (by kg)

Vitamin A 15.000 IU, Vitamin D3 1.000 IU, Vitamin E 120 mg. Taurine 1.000 mg, L-carnitine 100 mg. Iron 50,0 mg, Copper 10,0 mg, Zinc 60,0 mg, Manganese 10,0 mg, Iodine 1,0 mg, Selenium 0.2mg.
Share
View full details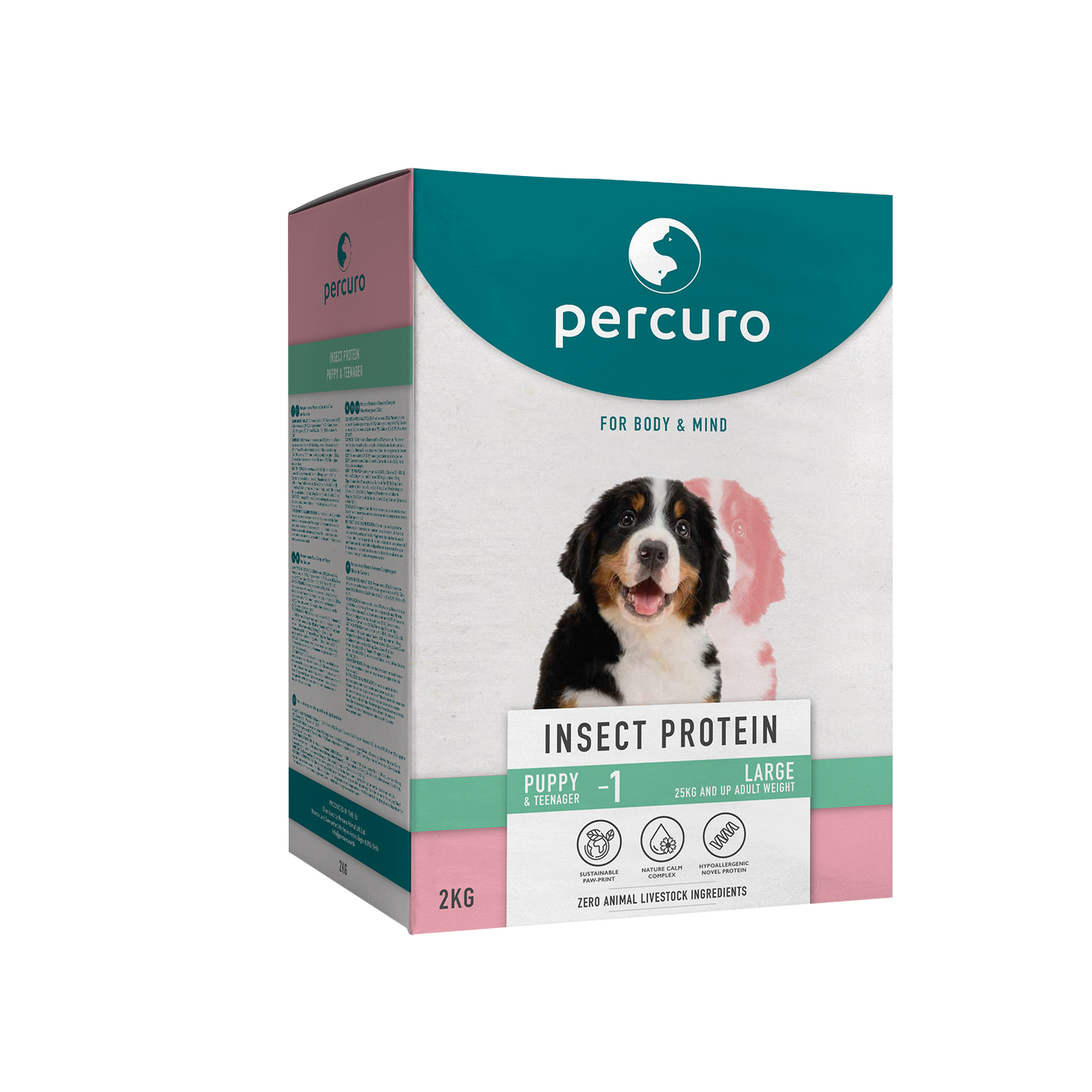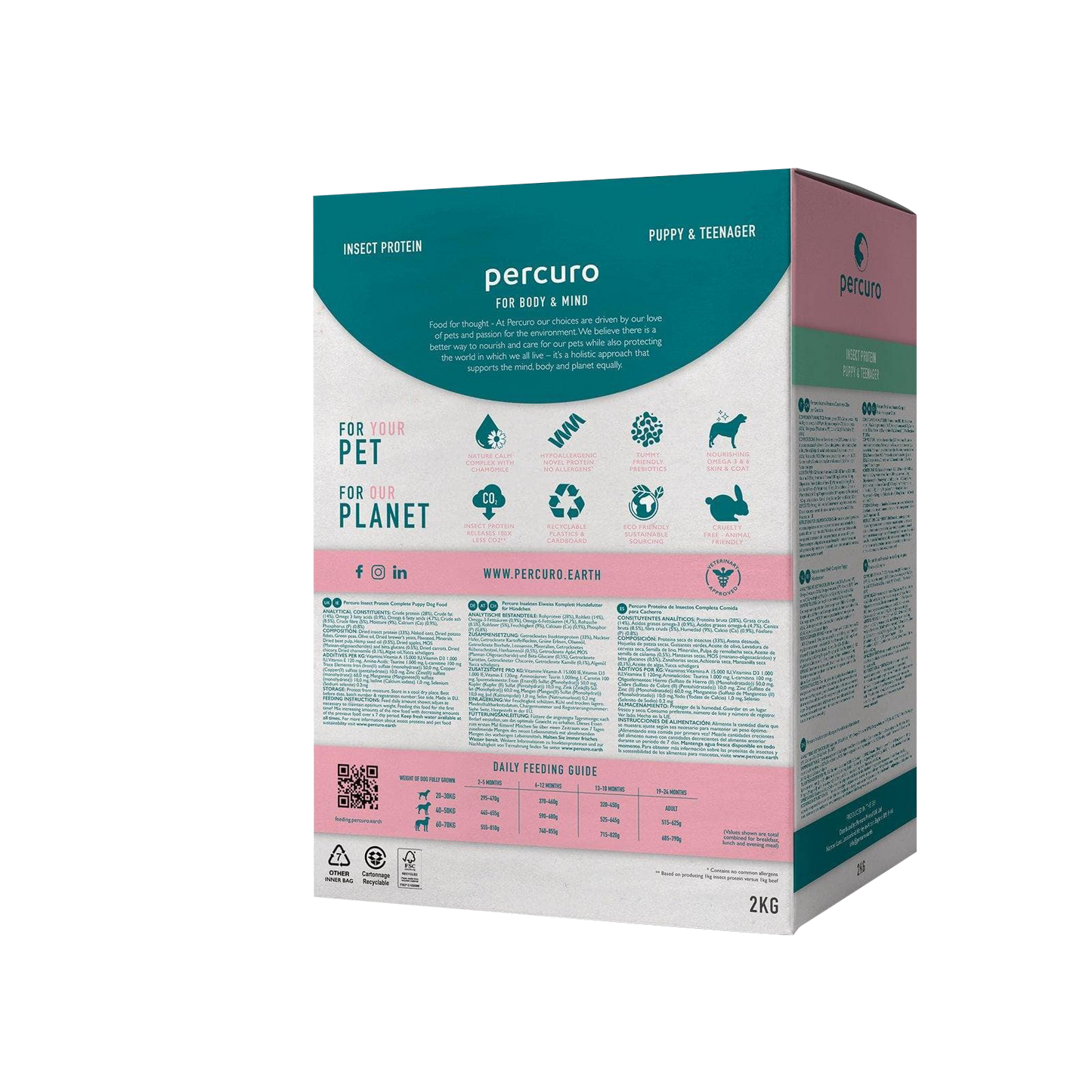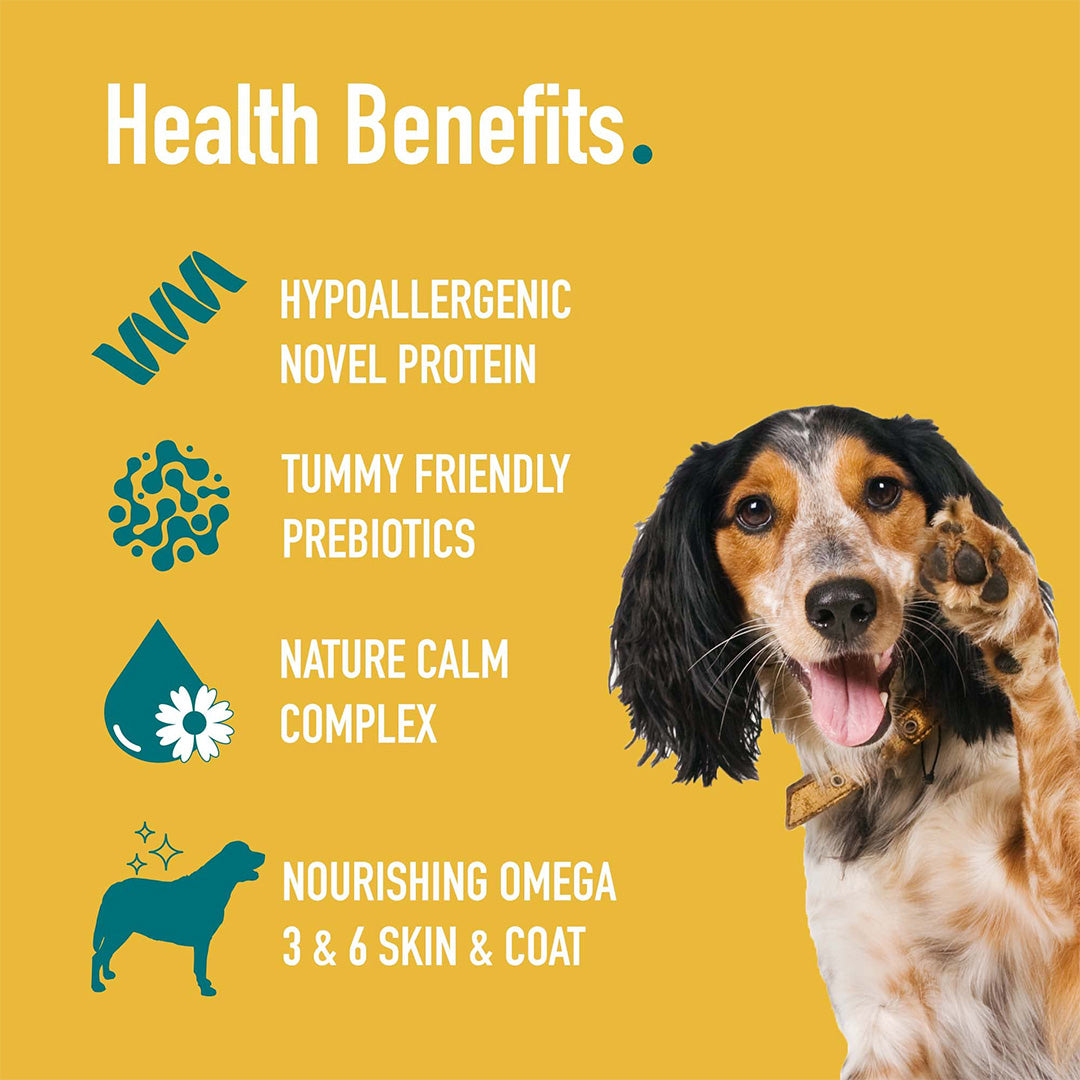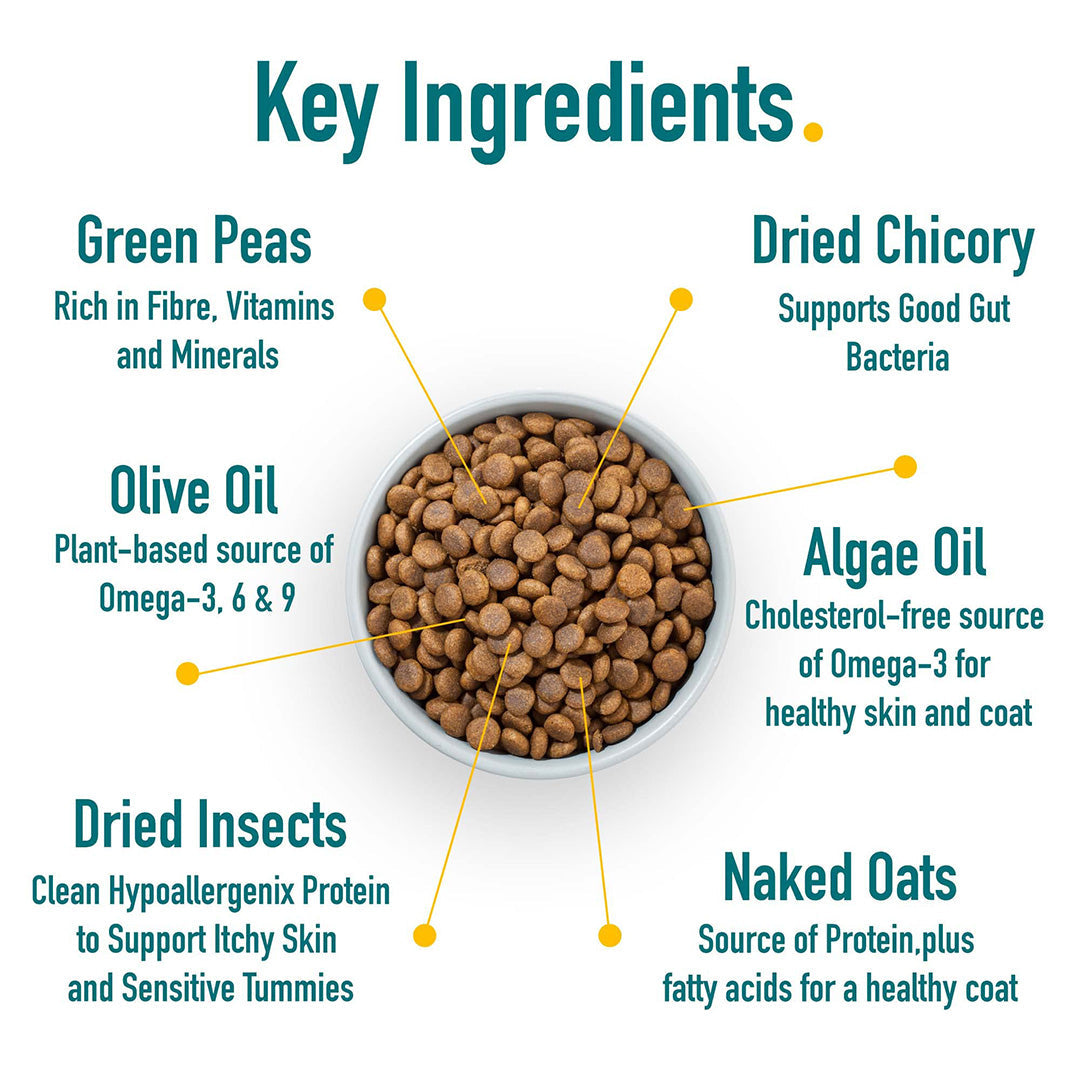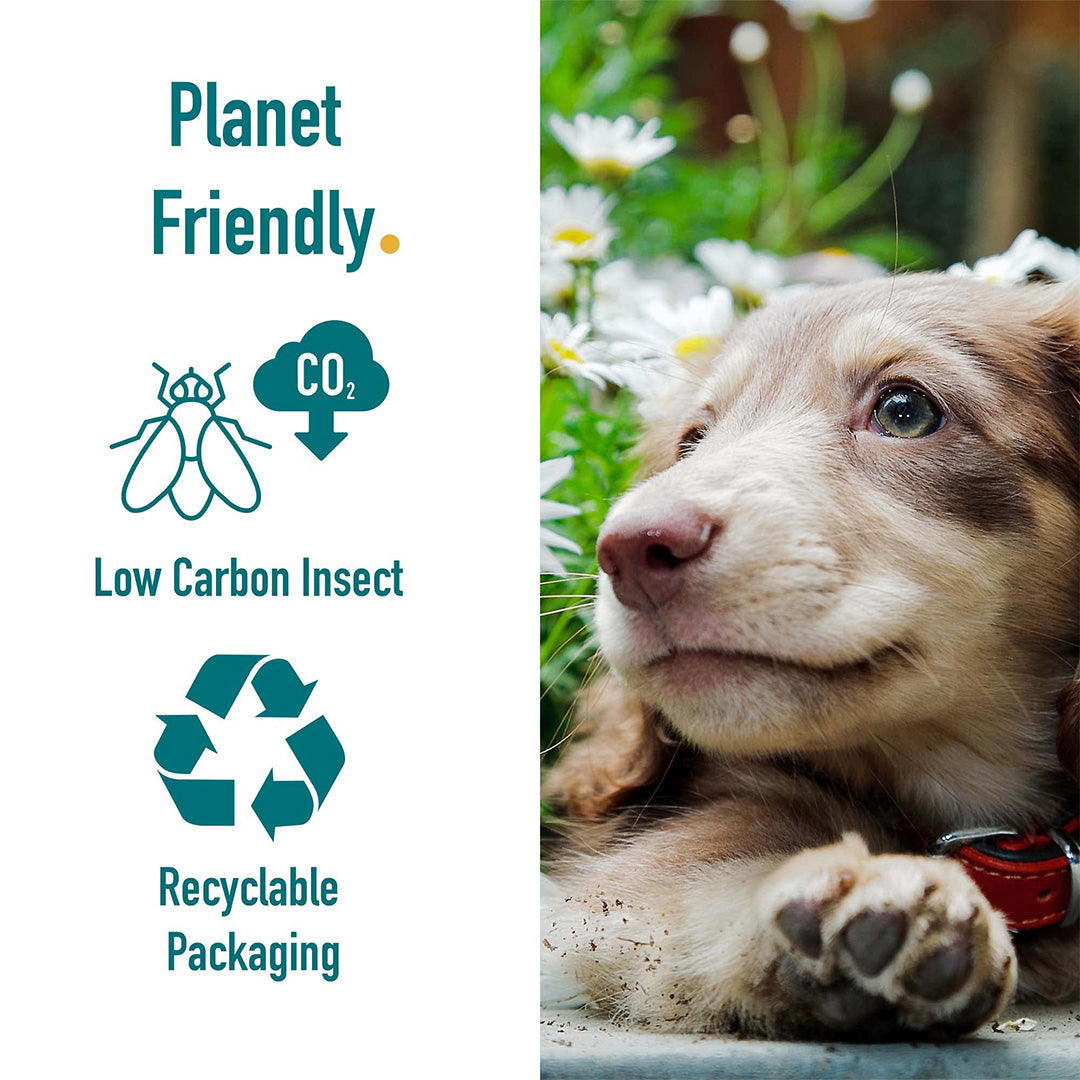 Our

Customers Love US- You Will Too.
Nigel
What a difference this has made! My little Griffon started to scratch and over time it got worse. We tried various things, but with no luck. Then I found Percuro. Lulu has been on this now for 3 months and the difference in her has been unbelievable.
Martin
We started feeding the boys @percuro.earth a few months ago.Since then Herbie has not skipped one meal and actually looks excited when he sees his bowl. The enthusiasm Dave shows when he hears me opening the food is off the charts.All in all, its a thumbs up from us.
Mishka
One of my collies has a pretty sensitive digestive system so we have to be careful what we feed him, but this food didn't upset him in any way which is great. The food seems to be made from top quality ingredients and comes in a bag which is resealable to keep the food fresh.
Vellur
This 10 Kg dog food bag seems to be expensive. But I tend to believe that the fact that it has no artificial substances and the fact that it is hypoallergic can justify the price. The food for puppies weighs 10 kg and contains a large amount of hypoallergenic protein, clean of insects and free oats. It has no dyes or preservatives.
Hannah
A healthy alternative protein coming from insect protein rather than animal. It is a good price, good for the planet and overall a decent dog food with a good composition. Happy we gave this a go!