Planet
Friendly
Planet Friendly
WE COMBINE OUR ECO-FRIENDLY INSECT PROTEIN WITH SUSTAINABLE PLANT-BASED INGREDIENTS, PACKED IN 100% RECYCLABLE PACKAGING.​
Know More
Irresistible
Taste
Irresistible Taste
WE CAREFULLY SELECT OUR INGREDIENTS TO DELIVER DELICIOUSLY TASTING FOOD EVEN FUSSY DOGS LOVE! 100% MONEY BACK GUARANTEED.​
Buy Now
Holistic
Health
Holistic Health
OUR HYPOALLERGENIC, LOW INFLAMMATORY INGREDIENTS PROVIDE HEALTH BENEFITS THROUGHOUT THE BODY AND THE MIND.​
Know More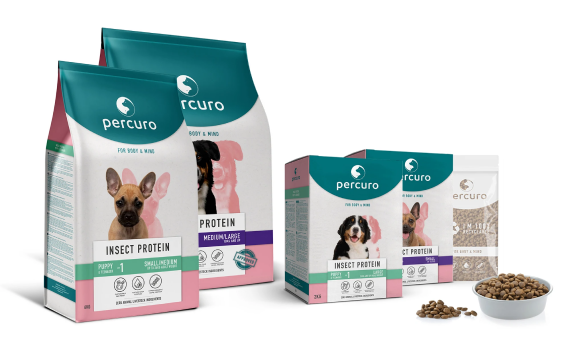 Just like you, we deeply love our pets. But, finding a truly holistic, healthy food we found impossible. On top of that, pets leave a huge carbon pawprint on our earth. We share our planet with 500 million companion cats and dogs, who consume an Earth-shattering 20% of the world's meat and fish! But what if we could change that? We all want the best for our pets that also does not cost the Earth. So, we set ourselves a challenge: to create the next-generation pet food for conscious pet parents, starring an innovative and sustainable protein source - insects.
What makes
Percuro special?
Tummy Friendly
Prebiotics
Hypoallergenic
Novel Protein
Reduced Carbon
Clean Insect Protein
Cruelty-Free
& Animal Friendly
Nourishing Omega 3 & 6
Skin & Coat
Eco friendly
& Sustainable
MEET THE

"HERMETIA ILLUCENS"
Our

Customers Love US- You Will Too.
Nigel
What a difference this has made! My little Griffon started to scratch and over time it got worse. We tried various things, but with no luck. Then I found Percuro. Lulu has been on this now for 3 months and the difference in her has been unbelievable.
Martin
We started feeding the boys @percuro.earth a few months ago.Since then Herbie has not skipped one meal and actually looks excited when he sees his bowl. The enthusiasm Dave shows when he hears me opening the food is off the charts.All in all, its a thumbs up from us.
Mishka
One of my collies has a pretty sensitive digestive system so we have to be careful what we feed him, but this food didn't upset him in any way which is great. The food seems to be made from top quality ingredients and comes in a bag which is resealable to keep the food fresh.
Vellur
This 10 Kg dog food bag seems to be expensive. But I tend to believe that the fact that it has no artificial substances and the fact that it is hypoallergic can justify the price. The food for puppies weighs 10 kg and contains a large amount of hypoallergenic protein, clean of insects and free oats. It has no dyes or preservatives.
Hannah
A healthy alternative protein coming from insect protein rather than animal. It is a good price, good for the planet and overall a decent dog food with a good composition. Happy we gave this a go!