Adult Small Breed Dog Food 2KG
Regular price
Dhs. 117.60 AED
Regular price
Sale price
Dhs. 117.60 AED
Unit price
per
Sale
Sold out
Hypoallergenic, clean insect protein dry food for the holistic health of small breed adult dogs​
Packed with all-natural goodness, Percuro Insect Protein Adult Dog Food for Small Dogs is the perfect choice for pint-sized pups with big appetites.
Suitable for everyday use, this small dog breed food contains 100% plant-based nutrients. Our unique hypoallergenic formula provides everything your pet needs, including clean, high quality insect protein and low inflammatory ingredients, providing health benefits throughout the whole body and the mind. This blend of ingredients makes it the ideal diet for dogs with food allergies, skin or stomach sensitivities.
We pride ourselves on our no-nonsense attitude when it comes to creating food for small dogs that's both nutritious and good for the planet. Our products do not contain any of the common allergens, such as dairy, corn, wheat, soy, rice or other livestock ingredients. You can trust that there are no hidden nasties too, such as artificial flavourings, colourings and preservatives.
Aside from satisfying hungry tummies, our dry dog food for small dogs can help reduce your carbon paw-print. We're sustainable every step of the way, from sourcing our ingredients to delivering your order in recyclable packaging.

No-no's

● No common allergens, livestock products, dairy, wheat, corn, soy or rice!​
● No hidden added nasties like artificial colourings, flavourings or preservatives
Yes yes!

Helping to keep tummies full and your small dog feeling good, our insect protein adult dog food for small breeds is packed with a whole lot of goodness.
● Healthy greens, including peas to provide an additional boost of protein
● Highly digestible proteins, such as naked oats
● Bursting with those all-important vitamins, including Vitamin B
● Dietary fibre to encourage a healthy digestive tract
● Full of healthy fatty acids omega-3 and 6 to support a healthy coat and skin
A healthy mind

Small dogs can benefit from our own Nature Calm Complex - a mix of dried chamomile, omega 3 rich oils and prebiotics. As a result, you may notice a change of attitude in your dog, meaning they appear calmer and are easier to train. It can even help soothe common dog worries and fears, such as fireworks and separation anxiety.
Composition

Dried insect protein (33%), Naked oats, Dried potato flakes, Green peas, Olive oil, Dried brewer's yeast, Flaxseed, Minerals, Dried beet pulp, Dried apples, MOS (Mannan-oligosaccharides) and bèta glucans (0.5%), Dried carrots, Dried chicory, Dried chamomile (0.1%), Algae oil, Yucca schidigera.
Analytical Constituents

Crude protein (27%), Crude fat (16%), Omega 3 fatty acids (1.0%), Omega 6 fatty acids (5.4%), Crude ash (8.5%), Crude fibre (5%), Moisture (9%), Calcium (Ca) (1.0%), Phosphorus (P) (0.9%).
Nutritional Additives (by kg)

Vitamin A 15,000 IU, Vitamin D3 1,000 IU, Vitamin E 120 mg. Taurine 1,000 mg, L-carnitine 100mg. Iron 50 mg, Copper 10 mg, Zinc 60 mg, Manganese 10 mg, Iodine 1 mg, Selenium 0.2mg.
Share
View full details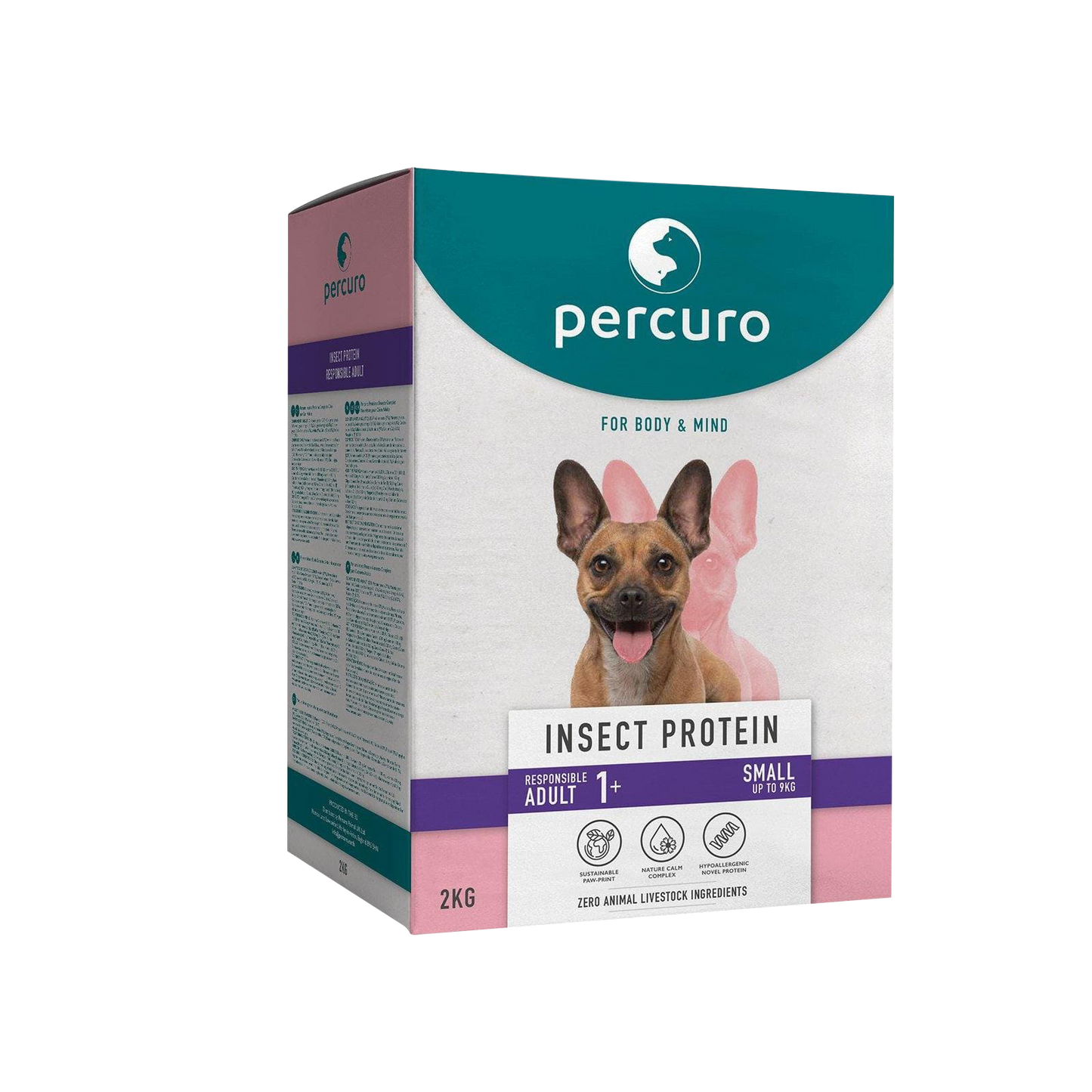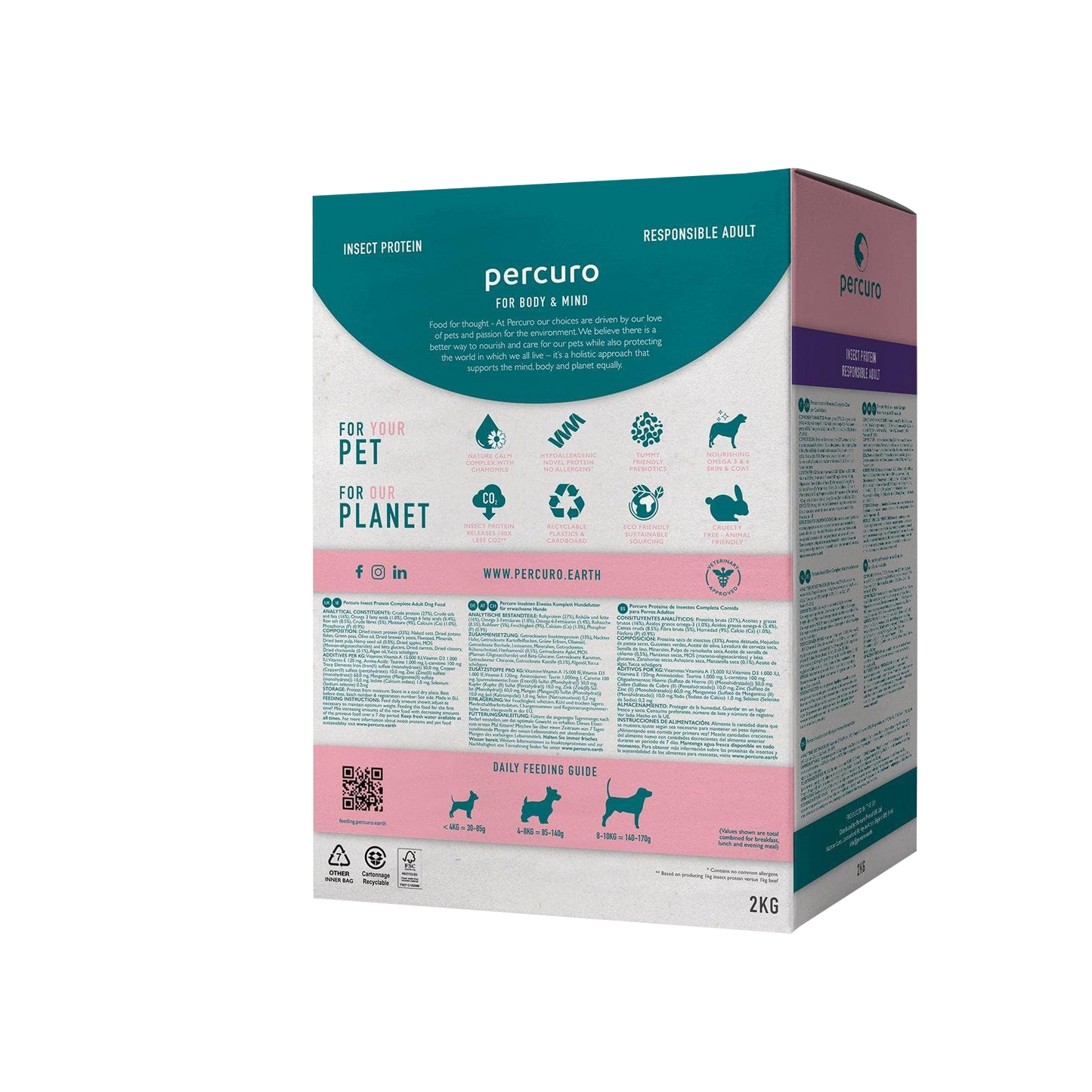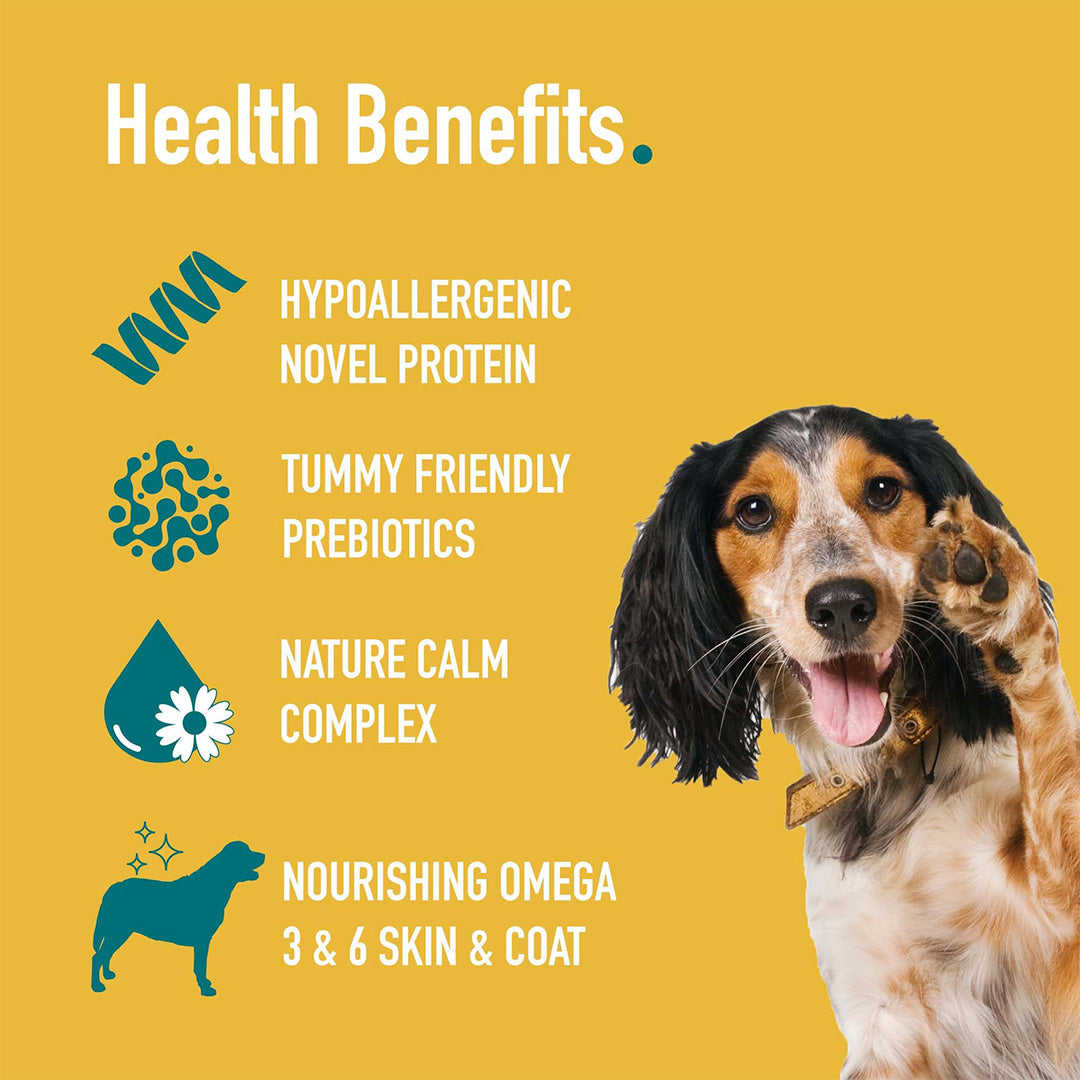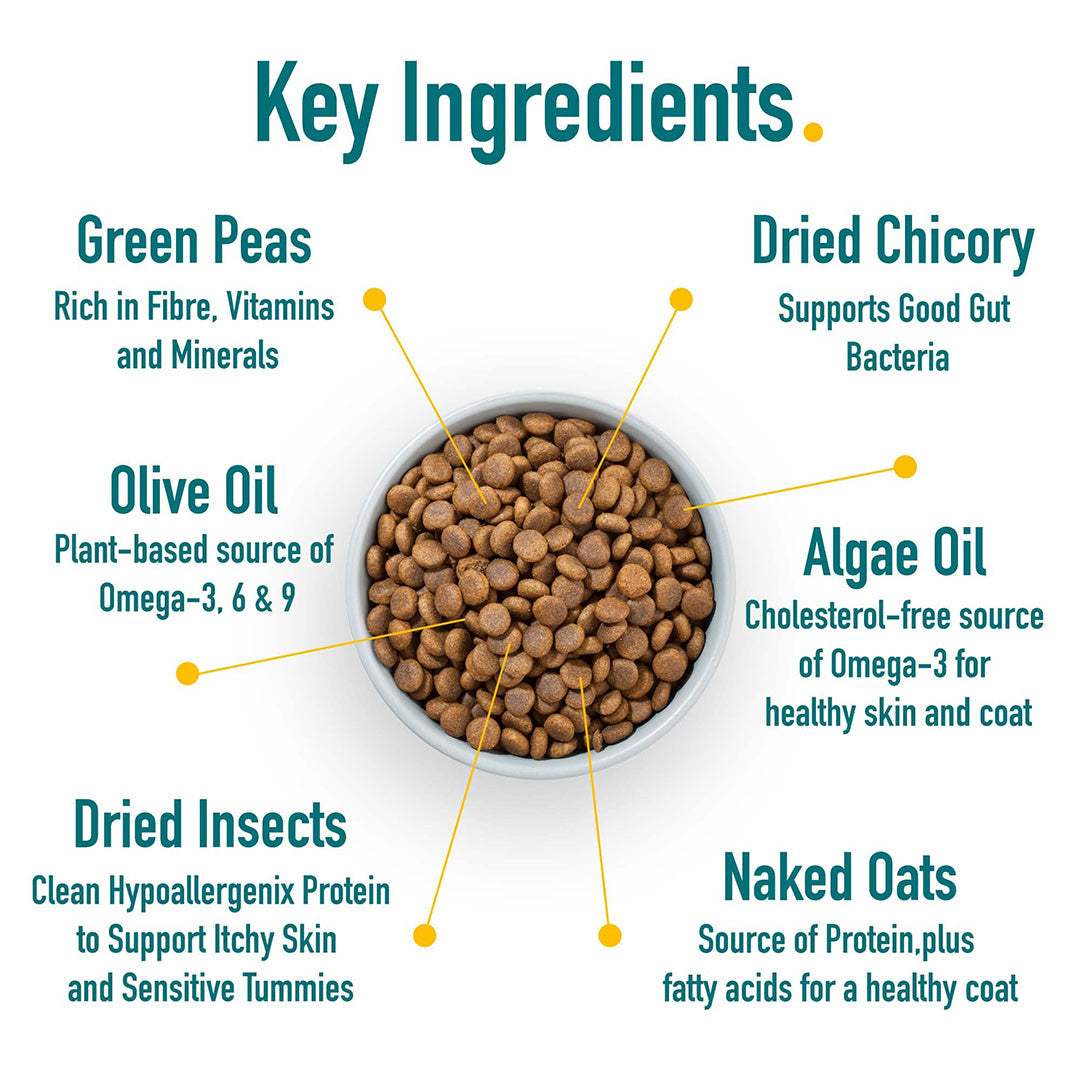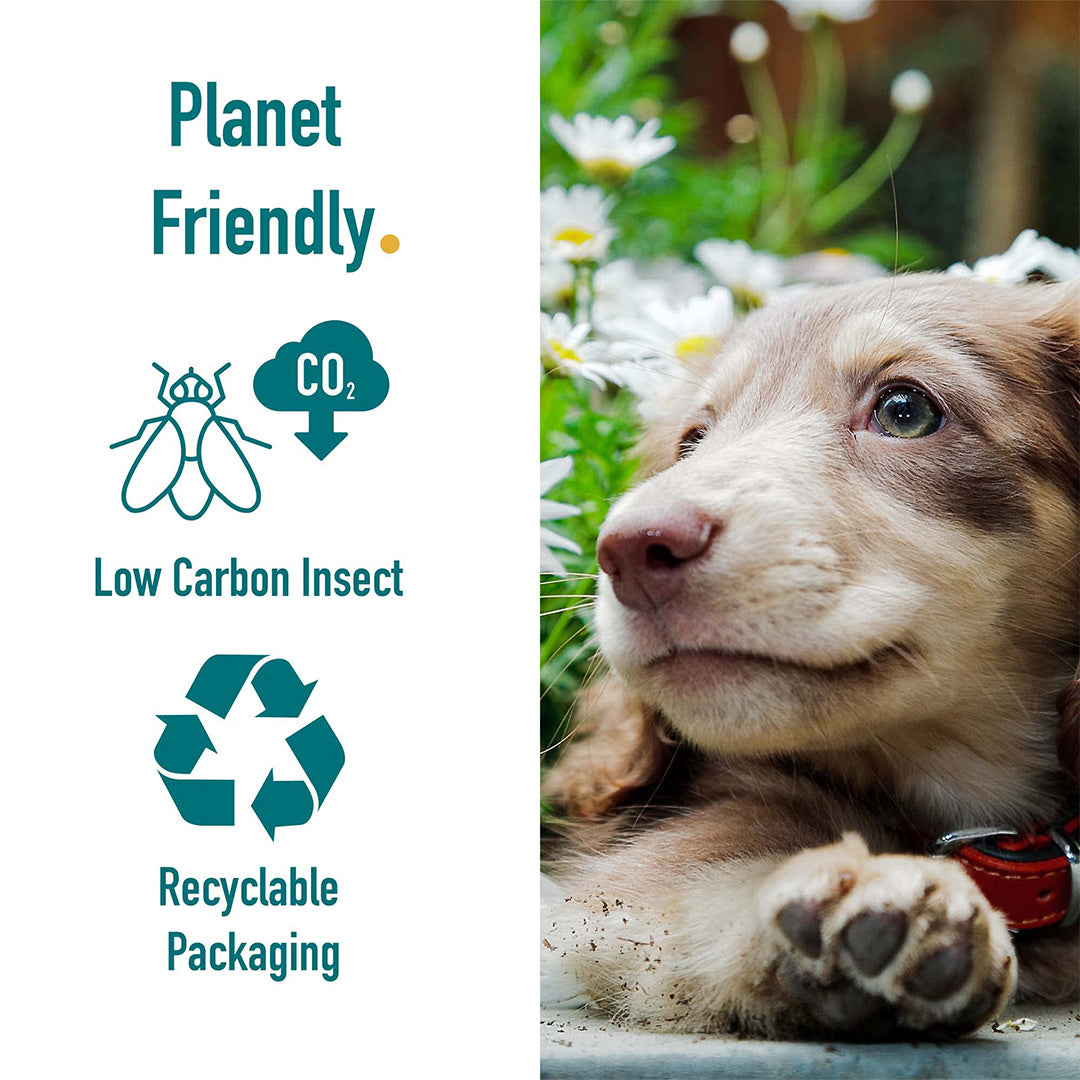 Our

Customers Love US- You Will Too.
Nigel
What a difference this has made! My little Griffon started to scratch and over time it got worse. We tried various things, but with no luck. Then I found Percuro. Lulu has been on this now for 3 months and the difference in her has been unbelievable.
Martin
We started feeding the boys @percuro.earth a few months ago.Since then Herbie has not skipped one meal and actually looks excited when he sees his bowl. The enthusiasm Dave shows when he hears me opening the food is off the charts.All in all, its a thumbs up from us.
Mishka
One of my collies has a pretty sensitive digestive system so we have to be careful what we feed him, but this food didn't upset him in any way which is great. The food seems to be made from top quality ingredients and comes in a bag which is resealable to keep the food fresh.
Vellur
This 10 Kg dog food bag seems to be expensive. But I tend to believe that the fact that it has no artificial substances and the fact that it is hypoallergic can justify the price. The food for puppies weighs 10 kg and contains a large amount of hypoallergenic protein, clean of insects and free oats. It has no dyes or preservatives.
Hannah
A healthy alternative protein coming from insect protein rather than animal. It is a good price, good for the planet and overall a decent dog food with a good composition. Happy we gave this a go!